<![if !vml]>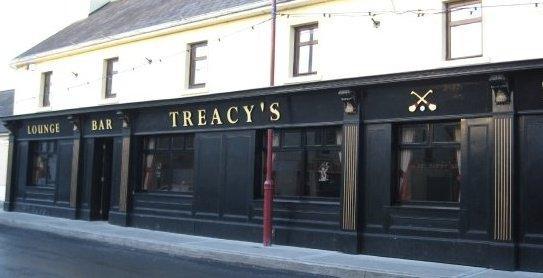 <![endif]>
Thomas Treacy's Business in Killimor:

Tom Treacy was a shop-keeper and undertaker. The premises was built by Tom Treacy and Tommy Lyons, Ramore (uncle of Johnny) and was roofed by Tom Heade, Slateford
From the early 20th century, Treacy's shop was an integral part of business life in Killimor.

The surviving ledgers, day-books and cash-books, available from Treacy's, date from 1915 to 1959. Bill heads found in the ledgers described Thomas Treacy as "Builder, Contractor, Hardware Merchant and Grocer" who stocked farm implements, building materials, timber, cement, oil, paint, groceries, drapery and boots and shoes. The bill heads also contained a reminder that oak, deal and pine coffins were always in stock. Thomas, whose family were farmers in Lisdeligna, started his business life in a rented premises. He then bought a site, built his own house, shop, stores and workshop and moved there in 1932. Being a master builder, he erected many houses in the Killimor area and built the barracks in Kiltormer. Together with his wife Nora, (née O'Hara, Neale) , and later, with his three daughters, he ran a very successful business for many years. He employed staff and trained apprentices in the building, carpentry, hardware and grocery business. Customers included the townspeople, people from the various townlands and from the adjoining parishes. The grocery and drapery business was run in a similar manner to that of the other shops in Killimor. Clients bought the basic household and clothing necessities, paid by cash (sometimes by instalments), and were often credited with the value of eggs or butter supplied to the shop for resale. In some instances customers part-paid their account by supplying loads of turf. Local sources remember that Treacy's was renowned for the sale of high quality boots, shoes and wellingtons at very reasonable prices. Musical instruments were also stocked, such as tin whistles, fiddles, (and spare strings), and jew's harps. One can imagine the cacophony of sound emanating from the shop as instruments were being tested before purchase.
Extract from Chapter 10: Angela Geoghegan (ed) (2012) Killimor Our Parish And Our People. Killimor & District Development Society
https://www.facebook.com/Killimor-Heritage-Co-Galway-826069284089807/?fref=nf